23 September 2019
In a recent Avanade blog post entitled "The 'C' in CX really stands for change", Ken Ramoutar discussed how the greatest challenges in enhancing the customer experience is the change it brings to a number of areas. The same challenge exists when modernizing legacy systems, particularly ones based on the mainframe. Mr. Ramoutar, in his article discusses the impact of change in four areas:
Personal Risk
Doing things differently
Cultural Norms
Accountability
Migrating Legacy Mainframe Applications
We would assert these same four areas come into play when migrating mainframe legacy applications to modern x86 or cloud deployment environments. From a personal risk perspective, many of the people associated with legacy mainframe systems feel that there is a great impact on their future, as long as they remain grounded solely in this architectural model. We would assert that a) the application knowledge of these individuals is still crucial after migration, and b) this is in fact an opportunity for these employees to develop new skills in modern cloud infrastructure management and application orchestration. Objections around performance and reliability are common, but it would seem that Google, Facebook, eBay and Amazon have all been able to provide performing and reliable platforms without the use of a mainframe!
People often don't "do" change well. The leader of our most recent mainframe migration success story said, from his point of view, this was a "change project" first and foremost! Getting people to accept "doing things differently" required a proactive approach to showing them how this "different" was "better". It took some effort, but when the project was complete, some of the greatest naysayers became the most vocal supporters of the project. We recommend organizations keep this mindset front and center when migrating mainframe applications. Don't underestimate the effort, but it's worth it. What you should NOT do is let this resistance to change become a show-stopper for your modernization efforts.
The mainframe architecture is more than just a technical implementation. There is a certain "culture" associated with this platform that was perfectly acceptable during it's early and growth years. But now, this culture becomes a stumbling block to progress. Modern technical deployment models have different "cultures" for sure. Changing the underlying technology of your legacy applications is one thing but getting people to embrace a new cultural approach is a different problem. The LzLabs Software Defined Mainframe® provides a platform that enables a cultural transition that is evolutionary, not revolutionary! It is a platform that allows the cultural transition to occur at a pace conducive to an organizations style. You get the benefits of potentially lower-cost platforms while you undergo your cultural transition.
Mainframe Modernization is a Continuum
Accountability can be a scary thing! People need to accept that modernization is a continuum. We would never suggest an organization take the entire upfront cost and risk of a complete application rewrite in order to achieve business innovation. We would recommend that you leverage the Software Defined Mainframe to reduce cost, gain infrastructure modernization advantages and them begin an application transition to a modern open source deployment model.
Legacy mainframe application migration is a change project! Focus on the four areas mentioned in the Avanade blog, and outlined in this article. Who's in charge of your application strategy? The modernization naysayers or the change agents. Have the courage to lead the change and be free of a technological architecture that has become a maintenance revenue pit.
---
White Paper
Mainframe Migration: A Cultural Change as Much as a Technical One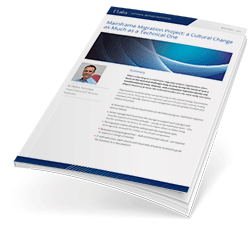 When embarking on a mainframe migration project, organizations often focus on the technical challenges likely to arise during the course of such a transformational move. However, with a competent migration partner and diligent discovery process, the technical hurdles are more easily overcome.
Read our guest white paper by Markus Tschumper, Head of General IT Services at Swisscom to understand how organizations would be better-served focusing on the cultural change requirements of such a move