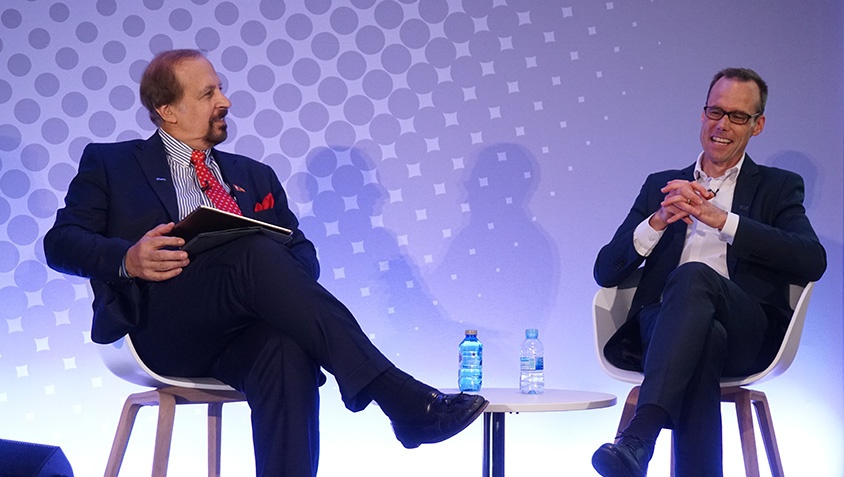 6 November 2018
With over 6,000 attendees flooding through the doors at this year's Barcelona Gartner Symposium, day one was always going to be busy on the LzLabs booth with attendees from around the world interested in finding out more about the Software Defined Mainframe and how it leverages open source solutions, such as OpenShift, OpenStack and PostgreSQL to deliver highly available mainframe on Linux.
Away from the exhibition, I was on stage with Markus Tschumper, Head of General IT Services at Swisscom. Together we discussed the Power of Open and how the LzLabs Software Defined Mainframe brings mainframe workload, without recompilation or data reformatting, to open platforms, enabling innovation on x86 and the cloud.
It was a pleasure to discuss with the audience just how much technology has changed in such a few short years, showing how ubiquitous connectivity and open source are proving to be two of the main enablers of digital transformation.
My keynote explored the inevitability of open source platforms, concluding that the Power of Open is being driven by three core factors: communities, innovation and imagination. None of which are currently common in a proprietary mainframe environments!
Markus and I then discussed how an announcement to build a cloud service offering in Switzerland in 2013 by Swisscom led the communications giant to become the first company in the world to break free of the proprietary mainframe and adopt a Software Defined Mainframe from LzLabs.
Markus summed up Swisscom's modernization journey during our discussion: "You need to have courage, and be ready for a change project, but it works, it really works."
It is only a matter of time before Swisscom is joined by other companies with ambitions to migrate from the mainframe. Since last year's Gartner Symposium in Barcelona last year, the firm has begun projects at about a dozen organizations with a strong sales pipeline throughout Europe.
In addition to hearing from LzLabs and Swisscom, attendees at the Symposium also heard from a selection of leading Gartner analysts. Leigh McMullen, VP Analyst, Gartner, discussed how it is important to create a culture that is ready for anything, noting that most enterprise transformations fail because of their culture rather than the technology.
Kai Zimmer, Associate Director Consulting, Gartner and Saptarshi Routh, VP Consulting, Gartner gave a 'how to' presentation diving into the lessons learnt from successful and failed digital transformation initiatives. While Dave Aron, Distinguished VP Analyst, Gartner, discussed three advanced digital transformation practices: Fear, fact, and faith-based portfolio segmentation, better net present value calculations and real option valuation. And how CIOs and other IT leaders should think through these practices and discuss them with their CFO, CEO and other business leaders to improve digital investment decision making.
For all the latest updates from Gartner Symposium/ITxpo Barcelona 2018 make sure you visit LzLabs stand 511.