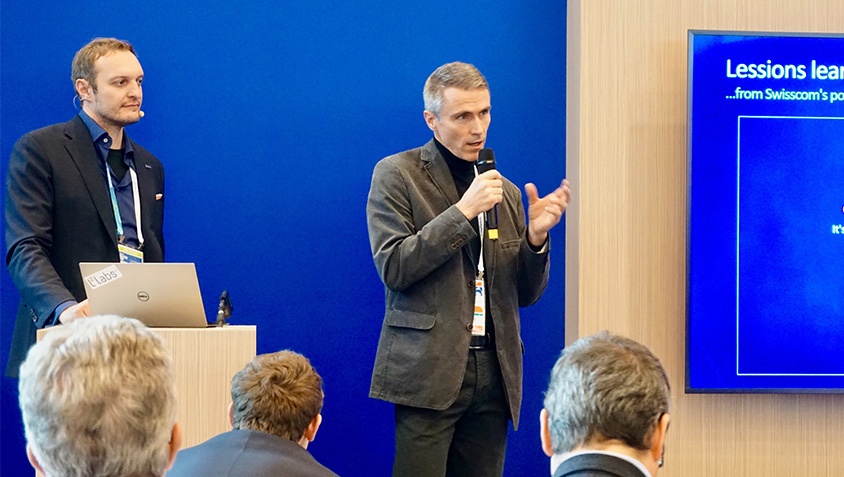 7 November 2018
If day one at the Gartner Symposium/ITxpo was about making introductions and reacquaintances, day two was about taking a deeper dive into digital transformation. At the LzLabs booth, visitors had the opportunity to get a live demo of the revolutionary Software Defined Mainframe (SDM), and see first-hand how it delivers the high reliability, availability, and serviceability of a mainframe environment, but on a platform that is open and flexible to future innovation at a fraction of the cost.
Meanwhile, up on ITxpo Stage 2, Christian Wehrli, VP, Product Delivery at LzLabs, and Christian Hodel, Mainframe Solutions Architect at Swisscom delivered a dual presentation on the lessons learned during Swisscom's migration of legacy workload off the mainframe to the LzLabs SDM. In 2013 Swisscom announced plans to build a cloud service offering which ultimately led the communications firm to become the first company in the world to start a migration project from mainframe to the SDM.
Operating as part of Swisscom's core IT infrastructure, the SDM will run as a virtual system within Swisscom data centres in Switzerland, using standard x86 servers running Red Hat Enterprise Linux. By moving to the SDM, Swisscom is running a converged / engineered solution (computing, storage, databases and other IT infrastructure functions) for enterprise applications such as online and batch processing.
During the presentation, LzLabs' Christian Wehrli stressed the fundamental need for an open mindset across the business: "People are afraid of change, so when changing the platform, you have to change the mindset of the people and get everyone involved."
One of the largest drivers behind mainframe rehosting projects is the impending skills crisis facing organizations whose legacy systems are serviced by a diminishing talent pool. Organizations that do not make this move are in danger of rendering their core IT infrastructure inoperable by a modern workforce. As Christian Hodel stressed during the discussion: "Part of our approach is to train our mainframe staff on modern Linux operation and PostgreSQL database administration, as this is the future for Swisscom."
When customer applications are rehosted on open systems, the fundamental operating architecture becomes far more accessible to a modern workforce. It is true that original source code knowledge – PL/I, COBOL, Assembler and others – is required for maintenance, but educating a modern developer in these fields is trivial; the coding language isn't the key challenge. Instead, issues lie within the myriad of arcane development procedures with which modern developers have little or no familiarity. "Simple" procedures such as compiling a program require interaction with a character-based development tool and batch processes that have no parallel in the modern world.
By moving the application development environment to a modern alternative such as Eclipse or Visual Studio, within a modern DevOps Toolchain, the development and maintenance backlog that plagues many mainframe organizations evaporates almost overnight.
Swisscom's Christian Hodel also emphasized the knock-on benefits of breaking free from the existing mainframe: "Migrating off the mainframe with LzLabs will not only reduce our OPEX costs, but will open up an opportunity for Swisscom to offer rehosting services using the SDM, on our private cloud".
In line with what was a common theme for the day, attendees also heard more real-world examples of digital transformation during the "CIO Stories". Mike Harris, Head of Research, Gartner, shared a stage with Daniele Buonaiuto of MSC Cruises, Hal Hodson of The Economist, and Société Générale's Philippe Morère for a behind the curtain look at selected digital transformation journeys.
With one day left of ITxpo at Gartner Symposium Barcelona 2018, be sure to drop by the LzLabs Booth (511) to find out how to liberate your legacy mainframe applications and accelerate your journey to the future of open computing.